Wednesday 22 May 2013
Your future is the most important thing in your life that you can look forward to….
Do NOT, Ever, Ever, Ever…Let YOUR Future Go Past YOU!
Monday 13 May 2013
Caine's Arcade
What are the limitations in anyone's life? After watching this film last Friday, it became quite apparent that nothing is impossible. You gotta have a dream. You gotta have a vision and most importantly you just gotta believe!
Enjoy this film and put some "New Thinking" into effect.
Peace. BB
Saturday 11 May 2013
Simplicity and Leadership
Monday 29 April 2013
You need to play this video several times. All too often we get so caught up in what is going on in our lives that we take for granted the positives and the blessings that we have. That fact that we wake up "normal", we go to bed "normal". The real question really should be, "what is the definition of Normal"? I have seen Nick several times at several functions that I have attended and let me make it quite clear that he sure does not have a problem with Life. Do You? I have been stressing in many of my writings of late of the need to enjoy life and make the most of the time that you have been given. Well have a listen to Nick. I am honored and looking forward to having Nick work with me this coming August! Oh, did I mention that John Maxwell and Les Brown as well as my Mentoring Team will be working with me as well? Now, let's really start to talk about normal.
What are your thoughts? I would ask that you watch this first and then give me some feedback.
Peace. BB
Nick Vujicic – Attitude is Altitude
Monday 15 April 2013
Mark Gorman get a message to Garcia through excellence
Wednesday 3 April 2013
This is a book that I am reading with great interest. If you have a desire to be a good leader, you must realize that all whom you lead will not always be in agreement with you but whom you can win over to support you regardless.
5 Characteristics of Weak Leaders
Wednesday 20 March 2013
I am reposting this oldie but goodie entitled "The Fermi Principle"
enjoy…..
Leader's will run into quicksand from time to time. As John Maxwell has always said, "When you are in over your head, it doesn't matter how deep the water is".
Wednesday 2 May 2012
Today's thought: Turn Your No's into Yes'
Today's Word….Understanding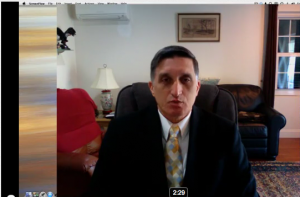 http://www.youtube.com/watch?v=SvHP7v0YeMA&context=C336063aADOEgsToPDskL5aLGkvkbNIR52TXQv9wOd